Monday, September 26, 2016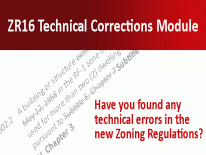 The Office of Zoning (OZ) has released the ZR16 Technical Correction Module to allow the public to submit technical corrections to the new Zoning Regulations. OZ understands that the ZR16 has some technical issues and encourages the public to submit any minor issues that are discovered through this module. These suggestions will be considered and processed on a quarterly basis. This module should NOT be used for any substantive changes; the text amendment process should be used in those instances.
Some examples of technical errors include:
An incorrect citation
A typographical error
An inadvertent omssion
Confusing language that requires clarification
If you have any questions, please do not hesitate to contact DCOZ at [email protected] or 202.727.6311.