Wednesday, October 10, 2018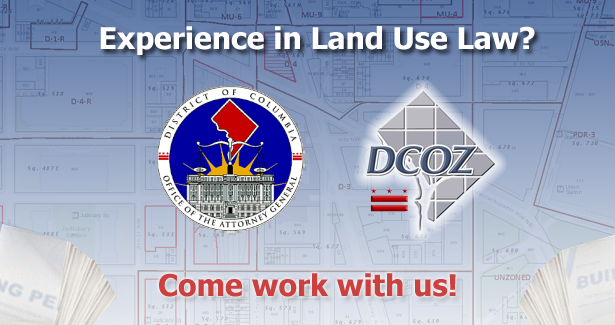 The Commercial Division of the Office of the Attorney General for the District of Columbia seeks a Supervisory Attorney Advisor to manage the Land Use and Public Works Section (Section) within the Commercial Division (Division). The Section provides legal assistance to the Zoning Commission for the District of Columbia (Commission), the Board of Zoning Adjustment (BZA) the Office of Planning (OP). The Section drafts orders, rulemakings and legal advice memoranda. Section lawyers identify legal and procedural issues to the BZA on pending cases.
The Section Chief's responsibilities include but are not limited to:
Ensuring that work product is timely, high quality and responsive to clients' needs.
Providing legal advice directly to the Director of OZ, the Commission, and BZA Secretaries, and the OP Deputy Director for Development Review and Historic Preservation.
Establishing strong and cordial relationships with internal and external partners including the Zoning Administrator, the D.C. Surveyor, members of the private bar, and District citizens and their representatives and advocates.
Working with OAG's Office of the Solicitor General on petitions challenging a Commission or BZA order, reviewing draft briefs and participating in moot courts as necessary.
Responding to inquiries from the Attorney General and other stakeholders regarding the impact of zoning on their work.
Performing administrative duties such as attending meetings with high ranking District officials, establishing Section performance goals, drafting monthly reports, completing performance evaluations and approving time and attendance.
Please see the attachment for full details on this position or visit the OAG Jobs site.