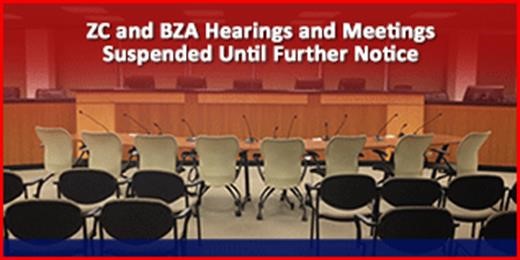 As of March 16, 2020, all Zoning Commission (ZC) and Board of Zoning Adjustment (BZA) hearings and meetings are suspended until further notice. Once hearings and meetings resume, for the BZA, the cases that were scheduled for March 18th will be heard first. Each hearing day will follow as previously scheduled on subsequent Wednesdays. For the ZC, the cases will be rescheduled to the next available dates. OZ staff will be providing updates on rescheduled hearing dates to affected applicants. Please check the website for schedule updates.
If you have any questions or require any additional information, please do not hesitate to contact us at sharon.sc[email protected] / 202-727-0340 for the ZC or [email protected] / 202-727-0364 for the BZA.
For more information on the District Government's preparations and response for impacts of COVID-19 Coronavirus, please visit coronavirus.dc.gov.