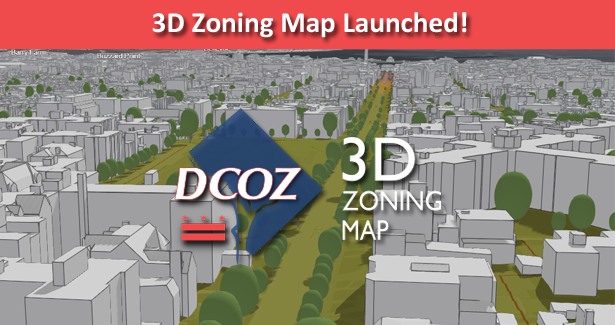 The DC Office of Zoning (OZ) proudly announces an expansion of its online mapping services with the release of the DCOZ 3D Zoning Map. This new mapping application builds off existing DC Open Datasets and new OZ Zoning data to visualize the District in 3D, providing greater context for proposed development projects and helping enhance Board of Zoning Adjustment and Zoning Commission decisions throughout the District.
Users of the new map will be able to visualize proposed projects by uploading building models into the map, create before and after building scenarios, and perform shadow and light studies.
The 3D Zoning Map was developed to enhance District resident's understanding, knowledge, and participation in Zoning matters, and help increase transparency in the Zoning process. Datasets included in the map include:
Detailed Zoning Data

3D Building Models and Street Trees

Shadow and Light Studies for any date or time of day

Direct Links to the Official Zoning Map and Zoning Handbook
With this enhanced, 3D map, OZ continues to look for ways to provide more relevant information for all District Residents in the most compelling ways possible! If you have any questions about these improvements, please contact DCOZ at [email protected] or (202)727-6311.