MISSION
The mission of the DC Office of Zoning (DCOZ) is to provide administrative, professional, and technical assistance to the Zoning Commission (ZC) and the Board of Zoning Adjustment (BZA) in support of their oversight and adjudication of zoning matters in the District of Columbia.
SUMMARY OF SERVICES
DCOZ administers the zoning application processes for the ZC and BZA. The agency reviews and accepts applications, schedules hearings to determine whether cases meet specified zoning criteria, schedules meetings to make determinations with respect to pending applications, and issues legal orders. Technology plays a critical role in support of this process by enhancing effectiveness and transparency. DCOZ also spearheads outreach to citizens of the District of Columbia to ensure a robust understanding of the zoning application process.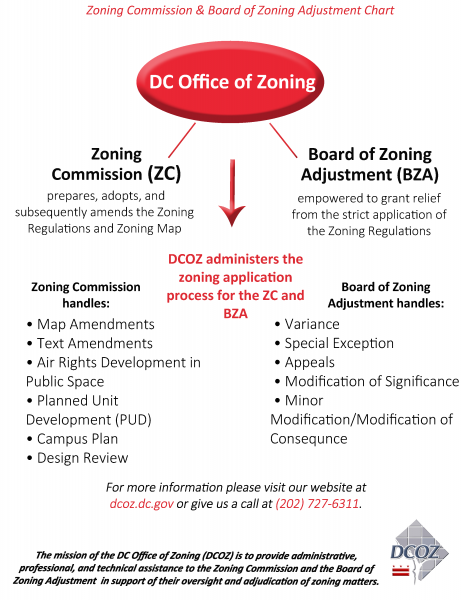 OBJECTIVES
Create a convenient, easy to use, and understandable zoning process through website development, expansive outreach, and educational programs for District residents and businesses
Leverage new and existing technology to further ensure that the District of Columbia's zoning processes are understandable and accessible to the public
Streamline Zoning Regulations to enhance efficiency and transparency of zoning processes
THE ZONING PROCESS
Any person or organization seeking to undertake new construction in the District of Columbia or to make repairs, alterations, or additions to existing buildings should consult with the Department of Buildings (DOB) to determine whether the proposed project conforms to the applicable zoning requirements. If the proposed project conflicts with the Zoning Regulations or the Zoning Map, the Zoning Administrator (ZA), who is part of DOB and has the authority to interpret and administer the Zoning Regulations as adopted by the Zoning Commission (ZC), will determine the required zoning relief. The person or organization may at that time: (1) modify the proposed project to conform to the Zoning Regulations and the Zoning Map; (2) appeal the ZA's decision (with cause) to the BZA; or (3) apply for relief from the ZC or the BZA.
Appropriate relief involving an amendment to the Zoning Regulations or the Zoning Map, an air rights development, or a Planned Unit Development (PUD) requires approval by the ZC, while variances, special exceptions, and appeals from administrative decisions regarding zoning are primarily handled by the BZA. The BZA also undertakes special reviews of proposed chancery development for facilities proposed to be located in certain mixed-use areas of the city.