Tuesday, October 10, 2017
On July 12, 2017, DCOZ was honored to receive a Special Achievement in GIS (SAG) award in partnership with Blue Raster at the 2017 Esri International User Conference.
The award was given in recognition of the Zoning Regulations of 2016 Official Zoning Map, Historical Zoning Map Viewer, and Zoning Handbook for utilizing geographic information science technology to help the public understand complex and technical zoning concepts. The Zoning Regulations of 2016 were the first major rewrite of the zoning regulations since 1958, and the new mapping applications developed by DCOZ and Blue Raster aimed to similarly modernize the agency's online services, with responsive, information rich mapping applications.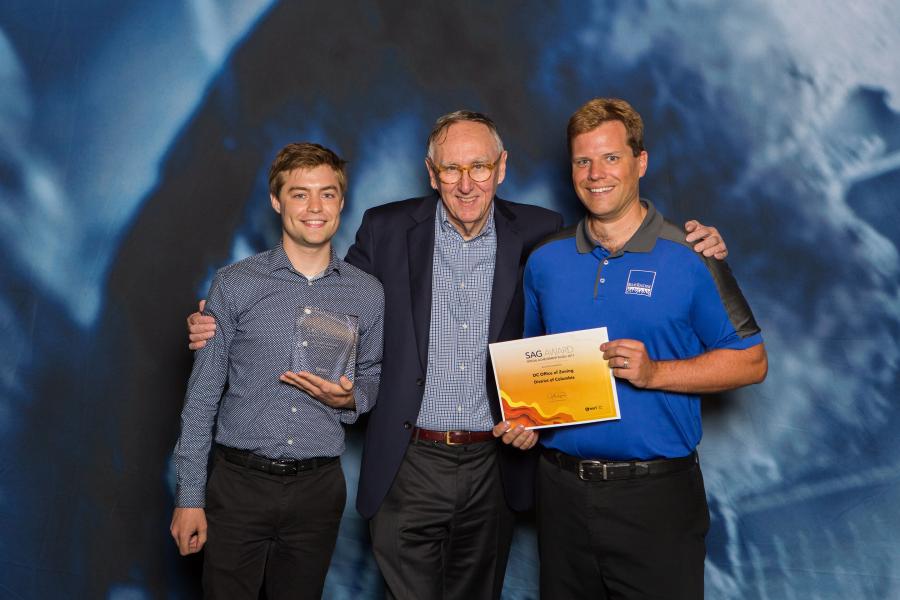 Matthew Holden, Zoning Data and GIS Coordinator for DCOZ (left) and Kevin McMaster, GIS Project Manager for Blue Raster (right) attended the conference and received the award for DCOZ from Jack Dangermond, President, ESRI. In addition to receiving the SAG Award, Matthew Holden and Kevin McMaster presented the paper, ZR16 Updating the Zoning Code in our Nation's Capital as a part of the Urban and Regional Planning conference track. For more information on the award, including a project description, please visit the SAG Award winners page.