Learn more about modified operations at OZ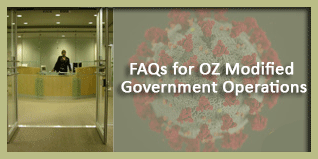 Will the Zoning Commission and Board of Zoning Adjustment be holding hearings and meetings?
Will the Office of Zoning be open?

The Office of Zoning will remain open during the modified operations due to the coronavirus pandemic, however, we have made changes to how service is provided. Beginning March 16, 2020 until further notice, all staff will be working remotely. OZ continues to answer phones, respond to emails, process applications, maintain case records, and review and issue zoning orders.

What are the office hours?

The Office of Zoning will continue to operate during our normal business hours of 8:30am to 5:00pm.

Will the Office of Zoning still accept new applications?

OZ will continue to accept the submission of ZC and BZA applications online through the Interactive Zoning Information System (IZIS).

Will the Office of Zoning accept new filings in active case records?

Individuals may continue to file case documents through IZIS, as well as through

[email protected]

for cases before the BZA and

[email protected]

for cases before the ZC. Any filings made during this time by fax or by mail will be uploaded to the case record once a week.

Do applications still need to be served on the Office of Planning (OP) and the Advisory Neighborhood Commission (ANC)?

Yes, please continue to serve copies on the ANC. However, OP has stated that during this emergency, they will check the case record frequently and rely on what is in the exhibit log.

How do I submit my hard copies and application fee?

Hard copies and checks maybe delivered to OZ by appointment only. Please note, online payments by credit card and e-check are available.

Who should be contacted when experiencing difficulties with the Interactive Zoning Information System (IZIS)?

If you experience difficulties when filing documents on IZIS, OZ staff are standing by to assist you. Please contact the office at 202-727-6311 or

[email protected]

during regular business hours to receive assistance.

When will cases that have already been scheduled for Public Hearing/Meeting in March and April be heard?
How does one request postponement of a case for a later public hearing/meeting date?

If you are a party, you can request postponement by filing a motion through IZIS that details the reason for postponement and a rough estimate of the amount of time you need. The motion must be served on the other parties. The Chairs of the ZC and BZA may act on these motions even when the ZC and BZA are unable to convene.

Should cases that are already scheduled post the public hearing/meeting signs?

Properties that were not previously posted will receive posters by appointment only. Properties that have already posted should remain posted. One new dates are issued, the posters should be updated..

Will orders be issued for cases that have already been adjudicated?

Yes, ZC and BZA orders for cases with final decisions will continue to be issued during this time.
For all additional questions or concerns please contact the Office of Zoning at (202) 727-6311 or at [email protected].