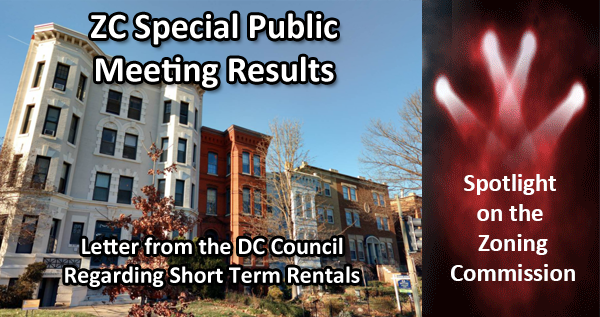 The Zoning Commission held a Special Public Meeting on October 29, 2018 at 6:00 pm to address a letter sent from the DC Council regarding the Zoning Regulations and Short Term Rentals in the District of Columbia.
The Commission asked the Office of Planning (OP) to work with the Zoning Administrator (ZA) and provide a report which:
Sets forth the current legal status under the Zoning Regulations of short term residential rental uses;
Provides text to permit short term rental uses in such zones and under such conditions as would be consistent with the Comprehensive Plan;
Indicates whether the text should become effective before the effective date of the proposed Council legislation that will regulate these uses; and if so,
Recommends whether the Commission should adopt the text on an emergency basis.
There was no timeline set for the report to be provided. Once OP provides the report, it will be placed on one of the Commission's meeting agendas for consideration of setdown.
If you have any questions about these improvements, please contact DCOZ at [email protected] or (202)727-6311.