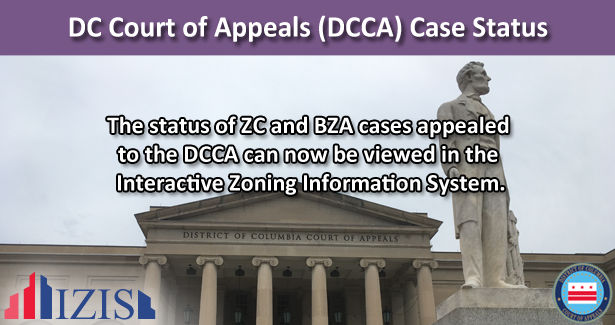 The DC Office of Zoning (OZ) proudly announces an expansion of the Interactive Zoning Information System (IZIS) with the launch of the District of Columbia Court of Appeals (DCCA) Case Status page. The DCCA is the highest court for the District of Columbia and has jurisdiction to review contested case decisions of administrative agencies, boards, and commissions of the District of Columbia government, including the Zoning Commission (ZC) and Board of Zoning Adjustment (BZA).
The Case Status Page lists ZC and BZA case decisions that have been appealed to the DCCA. The page includes the petitioner, current status, decision, and helpful case links. Case Records are searchable and range from 2013 to the present.
Click here to visit the Case Status Page.
If you have any questions about these improvements, please contact DCOZ at [email protected] or (202) 727-6311.